Với công thức đặc biệt không làm cay mắt, Dầu gội dịu nhẹ cho bé Cetaphil Baby Shampoo với công thức PH trung tính, nhẹ nhàng làm sạch tóc và da đầu của trẻ sơ sinh, đồng thời giúp duy trì lớp bảo vệ da tự nhiên cho da đầu của trẻ sơ sinh luôn khỏe mạnh.
Thành phần lành tính giúp chăm sóc dịu nhẹ phù hợp cho da đầu nhạy cảm của bé
Giữ ẩm giúp làm sạch tóc và da đầu, đồng thời giúp giữ ẩm trong suốt 2 giờ
Thành phần chiết xuất từ hoa cúc Lã Mã giúp làm lành vết thương, kháng viêm
Dịu nhẹ không kích ứng vì có chứa Vitamin B5 cùng lô hội, chăm sóc nhưng không gây kích ứng làn da mỏng manh của bé
Che chở màng ẩm tự nhiên của da nhờ chứa glycerin và panthenol, những thành phần chính nuôi dưỡng và bảo vệ màng ẩm tự nhiên của da giúp da bé phát triển khỏe mạnh
75% người dùng cảm thấy dầu gội làm sạch da đầu và chăm sóc làn da mềm mịn của trẻ
FEATURE
Cetaphil® Baby Shampoo with smoothing Chamomile, gently cleanses & protects baby sensitive scalp from drying out
Soap free

Hypoallergenic

Tear free

Dermatologist tested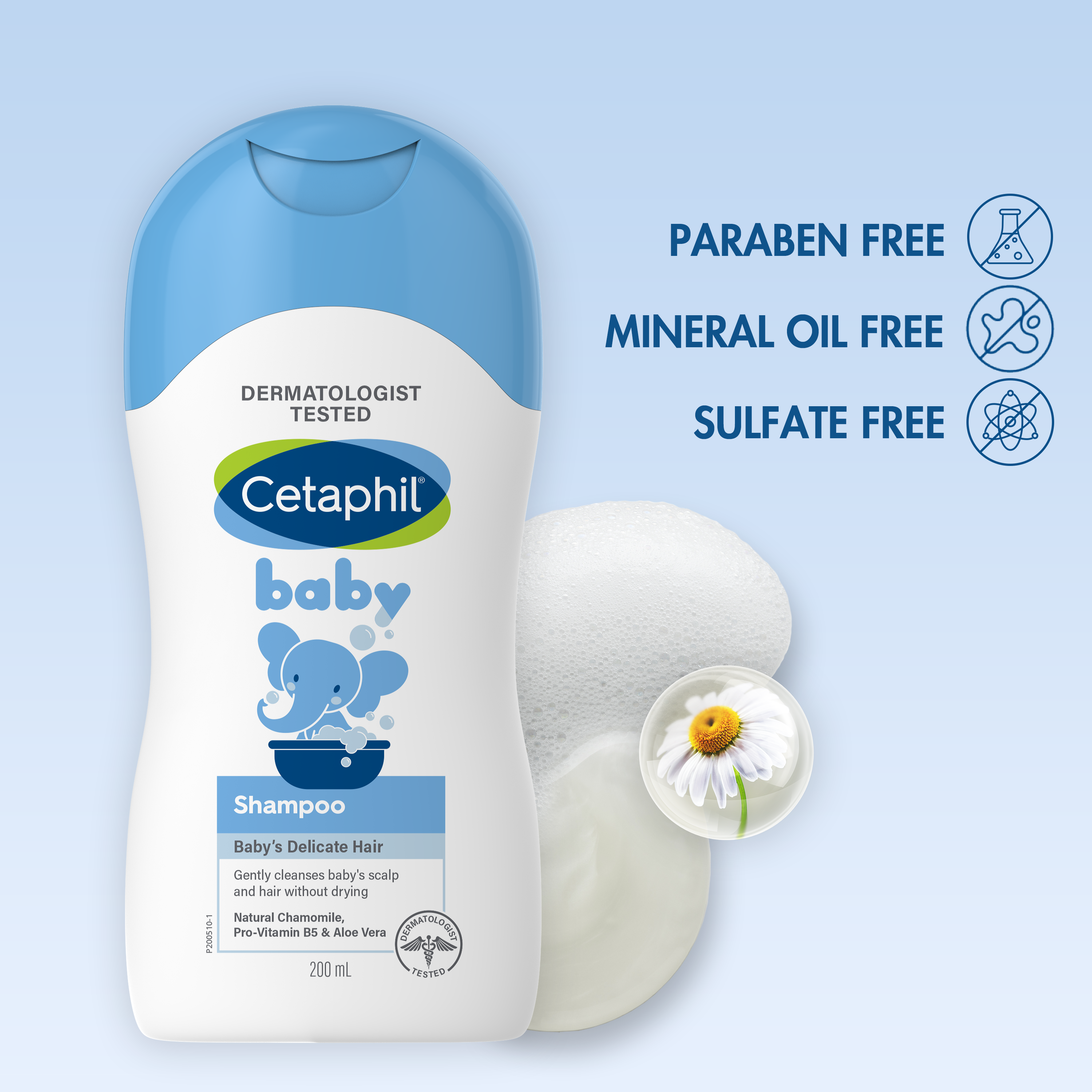 INGREDIENTS
Aqua,Sorbitol,Cocamido-Propyl Betaine,Lauryl Glucoside,Glycerin,Panthenol,Coco-Glucoside,Glyceryl Oleate,Acrylates/C10-30 Alkyl Acrylate Crosspolymer,Aloe Barbadensis Leaf Juice Powder,Chamomilla Recutita Flower Extract,Citric Acid,Heliotropine,Hydrogenated Palm Glycerides Citrate,Hydrolyzed Wheat Protein,Parfum,Sodium Hydroxide,Tocopherol,Zinc Sulfate
How to apply for best results
Simply pour shampoo into your hand or washcloth and gently massage over baby's hair, then rinse and lightly towel dry.
Ideal for everyday use
With skin-gentle ingredients you can feel good about, like natural Chamomile extract, this shampoo is an ideal part of your baby's everyday skin care routine. Safe for babies as young as 3 months
A little more care
In addition to protecting the scalp, the skin of the body also needs to be taken care of, give it a little extra love. Use our Baby Gentle Wash at bath time, and immediately follow with our Baby Daily Lotion to keep baby's skin happily hydrated and irresistibly soft.